Context of the case of success of Alain Afflelou
Within the Optical and Audiology products sector, ALAIN AFFLELOU has become one of the leading European franchisors. Founded in 1972, it opened its first optician in Bordeaux and already has a presence in 16 countries, with more than 1400 opticians in the world.
With a consolidated presence in France with more than 900 franchises, which have led to it being the 1st franchise network of the optical sector in this country, as well as the best known brand of optics. Position that begins to be more than solid in Spain where as of 2018 it has more than 325 implementations spread across the different autonomous communities.
Its powerful value proposition for franchisees, makes the business model of ALAIN AFFLELOU the success of its development. Offering through its franchises quality products, exclusive and enjoying the best technologies, without giving up a commercial policy with attractive and competitive prices and offers that have helped it to be one of the main competitors within sector.
For some years the digital part has begun to gain more importance, betting on the sale of its products through a corporate ecommerce and the management of appointment requests for its franchising opticians. In addition to working on brand recognition through a branding strategy that has the ultimate goal of providing support to its franchisees.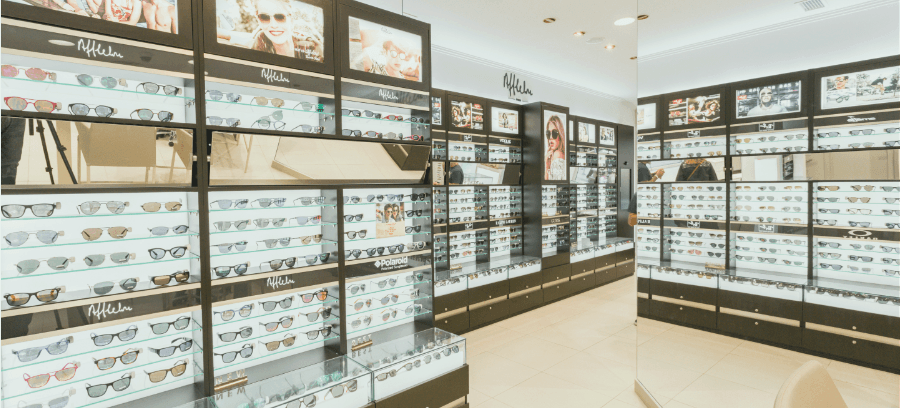 Project of ALAIN AFFLELOU
After analyzing with the client which is our main objective within the digital channel, we work on the design of a strategy aimed at achieving the highest number of online appointment requests through the website of ALAIN AFFLELOU. A strategy aimed at bringing customers to the various franchises that the chain has for Spain. This will be one of the main objectives, but also work brand branding helping to position it as a benchmark in the optical sector and giving diffusion to the various monthly campaigns oriented to offers or certain products.
In Digital Menta we use the following platforms to implement our strategy and bring the largest number of customers to their optics:
Looking for new customers through Facebook Ad campaigns:
From this platform we propose a campaign structure that allows us to identify the users in each one of the phases of the funnel in which it is found, which gives us the possibility to show a different message to each one of them and to be able to work in a personalization of the same ad, using ads in different image formats, video, for stories, personalized instant experiences, ads with dynamic content using the Web products feed, etc…
It is important to work the audiences consistently, so we carry out continuous test processes that allow us to identify which audiences and segmentations work best. Working with public prospecting, remarketing, similar audiences or using customer database. Selecting different micro-objectives for each of these audiences gives us the opportunity to optimize the campaigns based on them and to have a greater control of main KPIs.
We also work within this platform with a strategy very focused on local campaigns, where the campaigns are hyper-segmented around the radios of certain opticians to display personalized messages of this franchisee or make a reinforcement in areas that need it. The different possibilities of segmentation of this platform allow us to have a job at the audience level.
Capturing user searches related to optical centers through Search campaigns:
Within this platform we develop a very granular campaign structure that allows us to capture the users that are close to our physical optics, showing them personalized advertisements with their nearest optical/franchise. Supporting this with more generic campaigns with which we cover most of the related searches.
Our main objective has been to bring clients to the physical stores, so it is especially important for us the metric of "business visits", optimizing the level of bid settings for devices vs. locations gives us the possibility to enhance our visibility.
Shopping Campaigns with which we support the sale of products through ecommerce:
In Digital Menta, we work with the assembly of this type of campaigns following a granular structure that allows us to know the search terms that enter for each of the products of the feed and therefore to make the optimization based on more specific data.
Branding and web traffic campaigns through programmatic purchase and RTB with Display&Video 360
We use this platform since it offers us greater possibility when it comes to segmentation and to be able to control the budget more efficiently and optimize the campaigns, which, although our main objective with them is branding, we also look for qualified traffic that ends up making an appointment or looking for your nearest store.
Result
To find out how the Facebook Ads platform contributes to the ALAIN AFFLELOU brand, a market study is developed that provides us with data through which we can have a thermometer of the positioning of the brand within this platform. The results of this study show that users who have been impacted by Facebook ads remember the Brand ALAIN AFFLELOU 13.4 points above those users not exposed to advertising campaigns. In addition, the group of users impacted by the ads intend to visit a brand optics versus a competitor's optics of 2.1 points above the control group.

Implementation of micro-objectives that help us to achieve our ultimate goal and to place users in a funnel until closing the appointment request. This has allowed us to perfect the remarketing campaigns to generate a flow of messages and creativity adapted to each one of the audiences.

The number of users who have searched from the web their nearest optics has increased by 35% compared to the previous year.

We managed to work with a cost per lead medium objective in a stable way.